Things You Can Do To Improve Your Personal Growth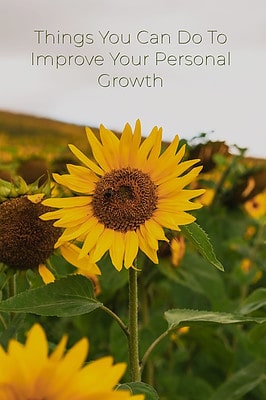 I've become interested in personal growth and development over the last few years. I see it as a chance to develop as a person, a true art form, and learning to experience not only for yourself but also for those around you. With that said, here are a few things you can do to improve your personal growth. When you are aware of these things, everything falls into place in terms of growing and developing as a woman.

Things You Can Do To Improve Your Personal Growth
Being able to improve your personal growth will benefit your relationships, reduce stress, improve health, increase productivity, better self-control, success, and peace of mind, and can make you happy. So get out there and enhance your life. You'll be glad you did it in the end.
So, with that said, I've included seven excellent personal growth things that anyone can do to improve their lives that I believe every woman on her growth path should do.
Related: What is Personal Growth and Development?
1. Study your passion daily.
We all have life hopes and goals that we want to realize one day. This makes life infinitely more enticing. As a result, reading and studying things about which we are passionate is critical for personal development. This assists in acquiring the necessary everyday information to grow. When you can do that, you're on the right route, and everything else in life becomes more realistic.
Related: Personal Growth Ideas for Women who Feel Lost in Life
2. Hire a mentor/life coach
Hiring a mentor or life coach to help you improve your life is one of the best things you can do. A mentor or life coach can be somebody who motivates you to achieve greater success in life. This might be anyone from a close friend to someone who has extensive experience in a certain field. Relationships, finances, mental health, health and wellness, and many other topics are covered.
If you don't know where to begin, I recommend asking friends or searching online for people who can assist you. Matthew Hussey, Bob Proctor, Robert Zink, Nichole Moore, Aaron Doughty, Abraham Hicks, Scott Haug, and Jake Ducey are the players I admire the most. They are all excellent mentors and role models. Matthew Hussey is one of the people who inspired me to believe that I could accomplish anything. It's the very reason I launched this site in the first place.
3. Self-reflect
If you want to take your personal development and self-love journey seriously, you must first understand who you are and where you are heading. So, at the end of the day, you must take the time to reflect on yourself. This will teach you to be conscious of what you have accomplished during the day. This can be accomplished by asking yourself what aspects of your life need to be changed and what steps you will take to achieve your goals.
Related: The True Meaning of Self-Awareness
4. Surround yourself with individuals who believe in you.
Individual development takes time, regardless of the rate. The trick is to recognize that you should never undertake it alone. You will be steered in the proper route if you do so. Enhancing your life will need significant work. As a result, you must not undertake it alone. This is because your support system can speak up when necessary. When the truth is revealed, it is easier to modify things, which makes it easier to improve them.
Related: How to Transform your Life Today- The Beginning of the End
5. Maintain consistency.
Growing as a person is a lifelong process that does not take place overnight. In reality, it can be a lengthy and slow procedure. It all depends on the individual and their destination. It took a few years for me and is still ongoing. Consistency and never giving up are therefore essential for meaningful transformation to occur. This can be difficult for many people. However, if you want to truly change, you must be patient and understand that it is a lifestyle change, not a miracle.
Related: How Fear Leads to Success?- The Truth
6. Be truthful to yourself.
It's much easier to say something than it is to accomplish it. That is why it is critical, to be honest with yourself about what is happening and what needs to change.
You can observe how much effort will be required for personal development. Which can be extremely difficult for certain folks. This is because it is easier to go out and buy books or take personal development classes than it is to do it. As a result, it's critical, to be honest about your progress and what has to be done.
Related: Why the Truth will Set you Free- It's Emotional
7. Keep a record of your progress.
When it comes to expanding, it is critical to keep track of your development. This will display what has been completed and what remains to be completed. You've heard the expression, "If it can't be grown and regarded as progressed, don't do it." That is because you will never advance in life unless you learn to progress. When you measure your progress, you can become the person you were born to be.
In Conclusion
Finally, working on your personal development is necessary for a happy life. As a result, I believe that completing tasks is essential for personal development. If you can study every day, engage a mentor or life coach, self-reflect, accept support, be consistent, be honest with yourself, and document your progress, it will help. Life becomes more enjoyable when these objectives are achieved.
What are some things you can do to advance your personal growth? I'd want to hear your thoughts. Please share your thoughts in the section below.
Kiersti writes on self-love and personal development professionally. Over the past ten or so years, she has studied self-love and personal growth. Visit https://womansdailyneeds.com/ to learn more about what she does, and like her on Facebook at https://facebook.com/womansdailyneeds to keep up with her.