10 Characteristics Of A True Friend- Guaranteed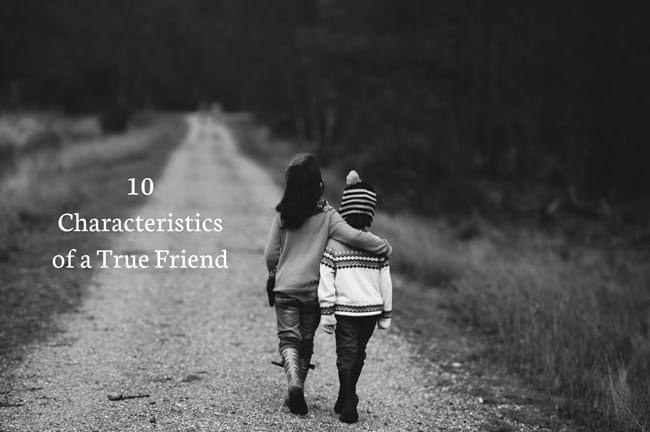 A great and fun thing about being a person is that you can always count on your friends for support and assistance. A friend is one of the most important things in this life. We should all strive to have good friends. With that said here are 10 characteristics of a true friend.
True genuine friendships are one of the most difficult things in life to make and keep. It is possible that people are just too busy to try to make friends. These include raising a family, working, and so on. Whatever your situation is, it is essential when you have friends that you are a great friend to them too.
10 Characteristics of a True Friend
A few of the characteristics I will discuss may pleasantly surprise you. I have however dealt with a few of these characteristics when it comes to friendships before I delved into personal development. Personal development professionals frequently note how they may have arisen for these reasons.
In my opinion, these are the ten core characteristics that describe a true friend who will be a loyal and loving friend in your life. If you can identify these ten characteristics then you can identify those who will make great real friends.
1. Honesty
A true friend will always be honest with you, no matter how difficult it is. That is because they genuinely believe you want what is best for them and vice versa. With that being said, it is critical to be open and honest with individuals with whom you have friendships. That way, you'll be able to assist one another in times of need.
2. Loyalty
Being loyal is important in friendships and any other form of interaction. That is because it demonstrates to one another how essential your friendship is to one another. When you can demonstrate to each other that you can, your friendship will develop stronger and healthier in every way.
3. Accepting
Nobody is identical to anyone else in life. If that were true, life would be extremely dull. As a result, it's beneficial to have friends who love and accept you for who you are, regardless of what happens. Because no one is perfect and everyone makes mistakes, this is true. So, if you can locate individuals and be someone who is nice and accepting of others, everything in your life will begin to improve.
4. Dependable
Someone who is extremely dependable is someone who is always there for you, regardless of the circumstances, and never fails to show up. This is due to their appreciation of and respect for your time. So they're not going to toss it away. A true buddy will always have your back, no matter what. And yes, even at 3 a.m.
5. Kindness
An excellent friend is really polite and generous in life. They take pleasure in supporting others in their time of need. That's because they have a good heart and truly care about you. Yes, there will probably certainly be times when derogatory statements are made. It is vital, though, not to take it personally because, in the long term, you may not always say or do pleasant things in your relationships.
Related: What is the Meaning of Kindness
6. Respectful
A good friend is someone who is respectful of others. In all elements of one's existence, including who they are, where they come from, what they believe, and so on. When you learn to be a respectful person, you will also learn to receive respect in return. All of which are crucial when it comes to friendship.
Related: What is the Definition of Respect-It's Acceptable
7. Compassionate
Someone who is concerned about your well-being is an extremely compassionate individual. Whatever happens between you two. They will always be there for you and care about you, even if they do not always agree with what you do. This is unquestionably a feature to look for in a good buddy. That is because they adore you and want nothing more than for you to be safe and happy.
8. A Great Listener
It's critical that when you're talking to someone, you genuinely listen to them rather than just talking at them. So, if you can get out and actually talk to someone, your friendship will be stronger than before. If not, I recommend focusing on your listening skills, as your friendship may suffer as a result. This is because it shows others that you don't care what they're saying. As a result, I recommend that you concentrate on both your listening and communication abilities.
9. Positive
It is crucial to focus on the positive aspects of life rather than the negative aspects of life. This is because it attracts more positive in life and in the lives of others. So, instead of thinking I can't, go out and believe I can. You'll be thankful for it in the end. And, let's face it, no one likes to be around a negative person. In any case, it's not good for your soul or your vitality.
Related: Why Is It Important To Be Positive?- It's All About Health
10. Trustworthy
One of the most important aspects of friendship is trust. That's because when you are friends with someone, you should be able to put your trust in them. As an example, consider what you're going through. Without the key concern that what one says to someone would be told to everyone. As a result, trust is essential to be present in every type of connection, not just friendships.
Conclusion
In conclusion of the findings, I strongly advise anyone seeking a true friend to seek out someone who possesses these top ten attributes. Just a few of the qualities that come to mind include honesty, loyalty, acceptance, dependability, kindness, courtesy, compassion, a great listener, positive, and trustworthiness. That's because if you can find a great true friend, you can be a great true friend as well. Which, is crucial to one's health in the end. Everyone should have at least one friend in their lives.
Related: What is the True Meaning of Friendship
Now I'm curious how many of these characteristics of true friendship you possess. Please let me know in the comments box below; I'd be delighted to hear from you.
Kiersti writes on self-love and personal development professionally. Over the past ten or so years, she has studied self-love and personal growth. Visit https://womansdailyneeds.com/ to learn more about what she does, and like her on Facebook at https://facebook.com/womansdailyneeds to keep up with her.