Brian Tracy's Personal Success Made Simple Review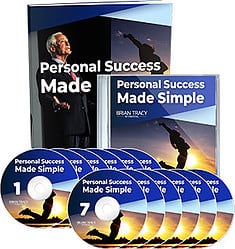 Product: Brian Tracy's Personal Success Made Simple Review
Some Pages On this website contain sponsored links and advertisements. Affiliate Disclosure.
Price: $99 (Retail)
The Cheapest Place to Buy: BrianTracey.com
Accessed: 14 Audio Mp3, 76-page workbook, and 3-month access to Brian Tracey's University
Guarantee: Risk-Free Satisfaction. 100% money back within 30 days.
My Rating: 4.8/5 Stars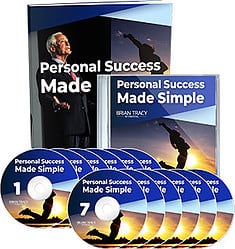 Brian Tracy's Personal Success Made Simple Review
---
In terms of personal success, I set goals, know what I want and deserve, and live a different but successful way of life. After I finish working out, the first thing I do is listen to one of these Mp3s for 10 minutes and simply relax. This course includes a variety of audio MP3s, a 76-page workbook, and three months of Brian Tracey's University for free. It aids in goal setting and the development of self-confidence and self-esteem.
Personal Achievement is the focus of this course. Brian Tracey's Personal Success Made Simple is a personal development course that will assist you in achieving true success on your terms. Everything begins with reprogramming the mind and discovering ways to be successful in your own life.
It's a natural force that will change your life from the first MP3. I'll walk you through some of my favorite parts of the course that helped me achieve personal success throughout this review.
Yes, There is Much to Learn, but You Will Be More Successful As A Result.
---
When I was younger, I never considered goal setting or personal success. As I've gotten older, I've realized that to advance in life, I must set goals and be present in my surroundings. I probably spend an hour per day on this course. I can rewire my brain and set goals for things that I'm passionate about. I'm also able to share this with those I care about, knowing that it will benefit their lives.
Here's how I use this program to boost my success in a very effective and relaxing way.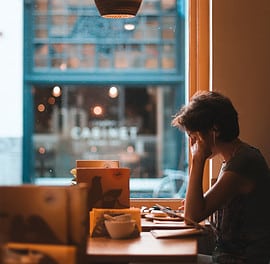 All of this, and much more, is possible with Brian Tracey's Personal Success course and the accompanying workbook. It is said that working in a relaxing environment with no distractions is preferable.
I studied this morning, and while doing so, I realized what I wanted to do with my life and set goals to accomplish that. Everyone knows that when we study or spend time alone, the simplest of answers come to us.
In Any Case, It's More Than Just Personal Success.
All factors, including self-awareness, drive, desire, hard work, mental clarity, and daily learning, must be present.
Yes, believe it or not, this small little course has the power to transform your life into a successful and passionate one. It will teach you how to change your way of thinking, the natural laws, how to improve your self-confidence, and even how to be happy. When you begin using this course, you will notice that your life will change in many positive ways.
Aside from this Personal Success Course, there are numerous other things one can do to create a successful and worthwhile life. These are only a few of the most common approaches. There are numerous ways in which this course will improve your life. You will have a better understanding if you google ways your life will change with Brian Tracey's Personal Success Mindful Course.
Here's an example of how this course can help you improve your personal development.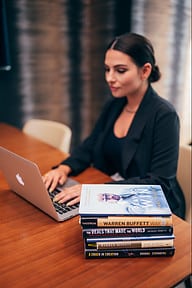 As a result, this is beneficial to your life and will assist you in changing and succeeding. Not only in your own life, but also in those around you.
⇒Click Here To Watch Brian Tracey s Personal Success Made Simple Introduction Video<=
Increasing Your Personal Success Is Simple
---
To put things into perspective, there is a 3-step process on how this course is used.
Step 1: Take 10-15 minutes or as long as you like and listen to one of the lessons on the MP3s. There are 12 lessons, so please do for the most success.
Step 2: Make use of the workbook to take notes. This is how you remember and learn what you're studying
Step 3: Complete the assignments assigned to you by the course. This is known as taking action, and it is what will help you change your life for the better.
In the end, that is all that is required to be successful with this course. When you begin to use it and stick with it, change begins to occur. It is critical to remember that personal change is a process that does not occur overnight.
It's Conclusive, Brian Tracey's Personal Success Made Simple Rocks

---
I'm a firm believer in this product, and I know others who are as well. The fact that there are only three steps to achieving personal success is an obvious disadvantage. One would think there would be a lot more. It is in Mp3 format and includes a 73-page workbook as well as a three-month membership to his academy. All of this is on your phone, which you can carry with you at all times.
It is completely worth it for the sake of your well-being and the well-being of your friends and family. If this sounds interesting to you, I strongly advise you to get your copy of Brian Tracey's Personal Success Made Simple. If you're an avid online shopper like me, BrianTracey.com has the best price on this course.
The question is will Brian Tracey s Personal Success Made simple course help you gain personal success? Your success depends largely on where you want to be in your life and what you're willing to do to get there. Click Here if you're interested in learning more about Brain Tracey s Personal Success Made Simple course.
I hope you enjoyed this review and if you have any questions about Brian Tracey s Personal Success Made Simple course or want to leave your review, leave a comment below.
Kiersti writes on self-love and personal development professionally. Over the past ten or so years, she has studied self-love and personal growth. Visit https://womansdailyneeds.com/ to learn more about what she does, and like her on Facebook at https://facebook.com/womansdailyneeds to keep up with her.