Criticism Bites: Dealing With, Responding To, And Learning From Critics Review-It's Important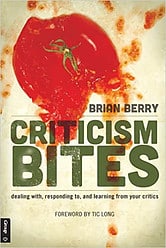 Product: Criticism Bites: Dealing With, Responding To, And Learning From Critics Review
As an Amazon Affiliate, some pages on this website contain sponsored links and advertisements. Affiliate Disclosure.
Price: $8.10 (Retail)
Cheapest Place To Buy: Amazon.com
Book Options: Paperback
Guarantee: Not Stated
My Rating: 4.5 out of 5 stars
Criticism Bites: Dealing With, Responding To, And Learning From Critics Review
---
As a result, I make it a point to incorporate some form of study into my daily routine. This usually happens first thing in the morning, shortly after waking up and lasts about ten to fifteen minutes. " Criticism Bites: Dealing With, Responding To, and Learning From Critics" contains strategies for dealing with criticism while learning to love life exactly as it is. Whenever it comes to criticism from people in your life
This book on criticism is a Christian Spiritual Growth type book that deals with various types of criticism that one may face in life in all aspects.
It's a natural force that will teach you how to deal with criticism the moment you start reading it. In this review, I'll walk you through some of my favorite techniques that have helped me the most.
It Appears Religious, But It Will Help You Deal With Criticism.
---
Aside from my own life, I was never a fan of anything related to religion or spirituality. That's because I never really understood what it was about when I was reading or studying it. However, I am now all about spirituality and looking from within to see who I am before looking at who others are. I enjoy discovering who I am and will continue to spend a lifetime discovering who I truly am. However, much of that is accompanied by criticism and judgment.
Here's a great way to get to know yourself without worrying about what others think.
When you get to know your true self, the opinions of others start to fade away. So much is possible with the book Criticism Bites: dealing with, responding to, and learning from your critics. However, this book is really only for those who struggle with loving themselves and are overly concerned with what others think of them.
Actually, it took me a long time to stop caring what other people thought and to learn how to deal with criticism. When I learned to do this, I discovered that I was happier and more accepting of myself as a whole. However, I will admit that it is a lengthy process. As we all know, learning to love oneself and deal with criticism is a lifelong process that does not occur overnight.
Related: Stop Caring What People Think
However, Everything Matters, Not Just Criticism.
---
Personal growth, acceptance, not taking things personally, self-worth, and self-discovery are all important.
Within this small book, you will discover that you have the ability to deal with criticism and so much more about who you are in your life. Allowing you to start living and not caring what others think. It will, however, allow you to deal with the criticisms and judgments that you will encounter. Finally, allowing you to learn to not let it bother you and know how to learn from it.
There are so many things beyond criticism that you can learn with your copy of Criticism Bites: dealing with, responding to, and learning from your critics, to name a few. There are numerous ways in which this book will assist you in learning to love your life and not care what others think.
You can clearly see some Amazon reviews if you look down below. I believe you will benefit greatly from these reviews.
As a result, whether negative or positive, criticism will make you stronger in the end. It can, however, make you angry. Here's a great example of someone being resilient in the face of criticism.
Finally, it is very beneficial to one's life because it can help you be stronger, healthier, and learn in your daily life, including how you interact with those around you.
Dealing With Criticism Is Difficult But Worthwhile.
---
Here is a 5-step system for using this book to put things into perspective.
Step 1: Buy the book on Amazon.com
Step 2: Wait for it to be delivered.
Step 3: Study the book for a minimum of 10 minutes.
Step 4: Make sure to take notes in a notebook.
Step 5: Take inspired action.
That's really all there is to it. Things will start to change in your life once you start reading and taking action. It is critical to remember that daily study is required to stop caring what other people think and to deal with criticism.
It's Conclusive, Criticism Bites Is Mind-blowing.
---
This book is excellent. I have a stronger belief in it, as do many others. However, it is a very spiritual Christian-type book, which can be seen as a disadvantage, especially if one is not religious. However, it is still worthwhile to read because it will help you see criticism and yourself in a new light. Unfortunately, as far as I can tell, it is only available as a paperback copy. Well, makes it very easy to transport.
It is entirely worthwhile for your own and your friend's and family's sake. If this sounds interesting to you, I strongly recommend that you purchase a copy of Criticism Bites: Dealing with, Responding to, and Learning From Your Critics. If you're a regular online shopper like me, Amazon has the best deal on this book.
I hope you enjoyed this review, and please leave a comment below if you have any questions about Criticism Bites or want to leave your own personal review.
Kiersti writes on self-love and personal development professionally. Over the past ten or so years, she has studied self-love and personal growth. Visit https://womansdailyneeds.com/ to learn more about what she does, and like her on Facebook at https://facebook.com/womansdailyneeds to keep up with her.