The Secret Gratitude Book Review- The Greatest Change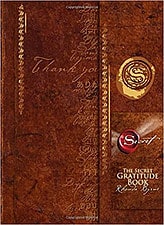 [wpv-post-body][wpv-post-title][wpv-post-shortcode]
Product: The Secret Gratitude Book Review
As an Amazon affiliate, some pages on this website contain sponsored links and advertisements. Affiliate Disclosure.
Price: $17.99 (Retail)
Cheapest Place To Buy: Amazon.com
Guarantee: Returns and replacements are both free.
My Rating: 4.7 out of 5 stars.
Created By: Rhonda Byrne, Creator of The Secret
The Secret Gratitude Book Review
---
Okay, so when it comes to self-help and wellness, I seem to reach for the Secret Gratitude Book every morning. I read my book while listening to music for gratitude meditation when I first get out of bed in the morning. This gratitude book offers lovely gratitude inspirational quotes as well as how-to instructions for using the book. Which are very advantageous for both you and other people.
The book on gratitude will increase your sense of gratitude in all areas of your life, even those that are not yet happening. Being grateful for everything, even the little things, is key. Additionally, things will start to appear in your life on their own.
It's a fantastic source that will increase your joy, love, positivity, and harmony in all aspects of your life. This book is filled with so much wisdom from the moment you open it for the first time. So, in this review, I'll walk you through some of my favorite ways that this book will bring gratitude into your life. These appear to help change anyone's attitude toward gratitude.
Related: How to Find Joy in Life- Arising from Within
Note: It's a Gratitude Journal, but Well Worth It.
---
Okay, so I've always been aware of the value of gratitude and the importance of practicing gratitude daily. But I never stopped to express gratitude. I've always been the one who sought advancement. I wasn't appreciative until my father informed me a few years ago that I needed to start being more thankful. The Secret Gratitude Book was the next discovery. Since using the book, it has made a huge difference in how I see the world and how I live my own life.
Here is an inside peek at The Secret Gratitude Book.
The Secret Gratitude Book encompasses so much (journal). For instance, more fulfilling experiences, healthier habits, and more solidified relationships. However, if you include appreciation in your life, much more will do so. Therefore, think about what you do have rather than what you need. Your life will start to become more valuable, I promise.
Being more grateful has led to more friendships and opportunities in my own l